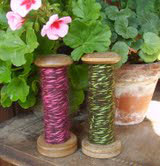 Your yarndreams accomplished !
My name is Irene Andersson and my yarn studio is located in the western coast of Sweden.
I work fulltime as a handspinner, began to spin in 1979.
Spinn Dotter Min was established in 1989.
Handspun yarn ~ unique and exclusive ~ natural yarn with soul…
Sessanta®  
alpaca – angora – bombyx – cashmere – cat-, horse-, lambs- and dog wool – cotton – merino – mohair – qiviut – ramie – tussah – yak
…in blends or 100% pure.
Every step is made by hand.
The fiber is carefully hand-selected and will then become tenderly handled.
I will spin your yarn according to your wishes.
Wool from swedish native breed or perhaps something more exotic like cashmere or silk…
Dog wool
To collect and use dog wool is an old tradition.The knitted garments are very warm and water- repellent.
If you want a yarn from your own dog´s wool be aware that the undercoat is best to use. Collect the wool in paper bags, do not pack tightly. When I have recieved your wool I will refine it to yarn in the following steps:
rinsing – carding – spinning – plying – skeining
Finally the 2- plied skeins are carefully washed and I guarantee that you always will get your own wool back !
Look here and you will see the 20 most popular breeds of dog, whose wool has been spun to yarn by me.